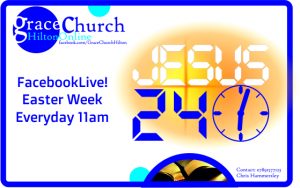 Join us on our [Facebook Page] for our Children's Easter Sessions
every day at 11am
Monday 6th – Sunday 12th April
Catch up on all the sessions below…
Monday
To join in the craft sessions you will need the following…
-White paper (A4)
-Glue Stick
-A small cardboard box (or make your own from the template below)
-Colouring pens
-Brown Paper e.g. envelope (or any colour, really)
-Scissors

Click here for Day One Wordsearch
Tuesday
To join in the craft sessions you will need the following…
-A4 card/thick paper
-Scissors
-Colouring Pens
Click here for Day Two Wordsearch
Wednesday
To join in the craft sessions you will need the following…
-Card/Thick Paper (A4)
-Scissors
-Printed speech bubbles/pictures
-Colouring pens
Click here for Day Three Wordsearch
Thursday
To join in the craft sessions you will need the following…
-A Toilet Roll
-A4 Card/Cereal Box
-Printed Templates
-Colouring pens
-Tape or Gluestick (masking tape, cellotape, electrical tape, whatever)
-Scissors
Click here for Day Four Wordsearch
Friday
To join in the craft sessions you will need the following…
-White Paper
-Masking Tape
-Colouring Pens/Crayons
-Two Sticks (one long, one short- about hand size)
-String (or long sandwich bag ties)
Click here for Day Five Wordsearch
Saturday
No crafts today!
Click here for Day Six Wordsearch
Sunday
To join in the craft sessions you will need the following…
-Seed try/Plastic Tub
-Soil/Compost
-Grass/Cress Seeds
-Water
-Spoon/Fork for gardening
-Plant/Yoghurt Pot
-Large Stone
-Handful of Small Stones
Click here for Day Seven Wordsearch
If there is something here that you are missing, get in touch and we will see if we can deliver it!?